This article quoting Sequent Partners' Alice Sylvester and Jim Spaeth was originally published by Morning Consult on March 16, 2021.
40% of Gen Zers on average said they'd be more likely to go to a fast-casual establishment if it were endorsed by a celebrity.
On average, 41% of Gen Zers said so when asked about coffee chains such as Dunkin'.
Consumers have short memories for endorsements: Only about 16 percent on average were able to match celebrities with brands they have worked with.
Brands have strategically leveraged celebrity stardom by way of partnership for decades, but the celebrities being eyed by companies as spokespeople have shifted over the years.
The era of a unifying and non-controversial figure representing a brand in perpetuity may be over. Many companies are now more focused on contracting the celebrities and influencers most prominent among younger consumers, rather than selling to large swaths of the general public.
"There are very few celebrities that are appealing to all," said Brian Rafferty, global director of business analytics and insights at Omnicom Group Inc. strategic branding firm Siegel+Gale. "Especially in the U.S. these days — with the political situation and there being such a divide between people — it's hard to find a celebrity that doesn't have a political skew to some degree."
And more celebrities are willing to play ball, seeing brand partnerships as opportunities to expand their platforms as opposed to worrying about accusations of selling out.
"The idea of partnering with brands also used to be seen as something that had a negative taint to the celebrity, and that's evolved as well," Rafferty said.
Quick-service restaurants in particular, including McDonald's Corp., are in on the trend, and Morning Consult polling suggests the gambit will likely pay off for some time, especially among younger consumers, who are often tricky to market to: They generally have an aversion to traditional marketing, trust larger institutions less and have higher standards for a company's cultural and political impact.
Forty-one percent of Gen Zers, ages 13 to 23, said they are more likely to visit a fast-food or coffee chain if their favorite celebrity promotes it, on average across actors, musicians and influencers. The 1,000-person survey, conducted Nov. 13-16, 2020, holds a margin of error of 3 percentage points.
About the same share (40 percent) said they're more likely to patronize a fast-casual restaurant thanks to a celebrity partnership, on average across actors, musicians and influencers.
Chains that team up with famous faces might also benefit beyond hooking Gen Z consumers: Millennials are just as likely as their younger counterparts to open their wallets at restaurants or coffee chains that are endorsed by celebrities, according to a separate Morning Consult survey of 1,000 U.S. adults across generations.
Fast-food and quick-service brands have much to gain, especially online
Some of the biggest brands within the QSR category have found success by working with popular performers and influencers.
"One of the things we've seen with celebrities is that they have a rub-off effect," said Jim Spaeth, a co-founder and partner at brand and media measurement firm Sequent Partners, and former president of the Advertising Research Foundation. "Celebrities are selected by a brand because they have a certain equity, and they're perceived in a certain way by the public. If the celebrity relationship is handled well, some of that celebrity equity can rub off on the brand."
McDonald's partnered with Travis Scott, who Forbes dubbed "corporate America's brand whisperer," in September as part of a deal that the rapper said earned him $20 million. The fast-food giant followed up by collaborating with J Balvin in November and Big Sean in December.
Scott has continued his work with major brands, launching a new brand of spiked seltzer called Cacti this week alongside Anheuser-Busch InBev SA.
By linking themselves to major celebrities with many young fans, brands such as McDonald's make themselves trendy and more relevant. Years ago, those companies might have balked at partnerships with musicians known for explicit lyrics, but today, the potential reward outweighs the risk, marketers said.
Plus, in the long run, controversy isn't necessarily a problem for these brands, Rafferty said. According to Siegel+Gale's research, even the worst kind of reputational damage caused by celebrity spokespeople — such as the fallout for Subway after the arrest of its longtime promoter Jared Fogle in 2015 — doesn't make a lasting impact.
Morning Consult data indicates that, among younger consumers in particular, brands can potentially glean the same value from hiring social media influencers as they can from teaming up with major celebrities. The shares of Gen Zers who said they're more likely to visit restaurants and coffee chains promoted by influencers, as opposed to actors, are almost equal, although musicians proved slightly more popular.
Influencers also tend to be more affordable for companies and can benefit brands through close relationships with their followers, who see them more as friends than public figures, said Andres Echenique, co-founder and chief executive of influencer marketing agency Perlu.
Dunkin', formerly known as Dunkin' Donuts, capitalized on TikTok's popularity in 2020 by naming a drink after the social media platform's superstar Charli D'Amelio, a known fan of the brand.
"We call them influencers, but I don't think their audience thinks of them as influencers," Echenique said. "They think of them as part of their community, so their influence, under the best of circumstances, is truly authentic."
The coffee chain sold hundreds of thousands of "The Charli" in the first five days of its launch on Sept. 2, and on that same day, hit a new record for daily active users on its app, up 57 percent from its previous 90-day average, according to a Dunkin' spokesperson. Last month, Dunkin' announced another signature drink with D'Amelio, the Charli Cold Foam.
In addition to fast-food joints, some fast-casual restaurants — such as Chipotle Mexican Grill Inc., which has worked with Miley Cyrus, David Dobrik and more — have invested in celebrity sponsorships in recent years.
Morning Consult data indicates more sit-down chains, such as Panera Bread Co., should follow suit to bring in more Gen Z consumers.
Most restaurant and coffee chains are likely highly interested in that demographic, said Gary Stibel, founder and chief executive of the New England Consulting Group, which counts former executives from Starbucks Corp. and Yum! Brands Inc. as part of its restaurant practice.
"The lifetime value of acquiring a Gen Zer today versus a baby boomer is huge," Stibel said. "If they walk in the door, usually two or three others are with them. And if you can establish habits in their teens and 20s, those will carry into adulthood when they start families."
At Chipotle, for instance, more than half of all customers are millennials and Gen Zers, said Candice Beck, senior manager of social and digital, in an email to Morning Consult, so the brand has a heavy digital presence, which is bolstered by celebrity menu items.
When Chipotle launched its "Guac is Extra But So Is Miley" burrito, inspired by Cyrus' favorite order, the item generated more than half a million social engagements, 400 earned articles and 1.4 billion earned impressions, Beck said.
The risk of celebrities upstaging brands
Brands, however, should avoid partnering with celebrities or influencers just to get in on the trend.
"The worst thing to do is to invest in a celebrity and then not get the brand recognition," Stibel said. "People need to be able to match the partner with the specific brand — not just say, 'I know they represent somebody, but I don't know who.'"
To test that, Morning Consult compiled a list of 23 actors, singers, athletes and influencers who have signed contracts reportedly worth at least $1 million to promote specific products or companies over the last several decades. Then, the 1,000 U.S. adults in the Feb. 26-March 1 poll were asked to correctly match the celebrity with the brand they partnered with from a list of five possible answers, four of which were incorrect.
On average across the 23 partnerships, only about 16 percent of respondents were able to correctly match the celebrity to their brand partner. The survey holds a margin of error of 2 points.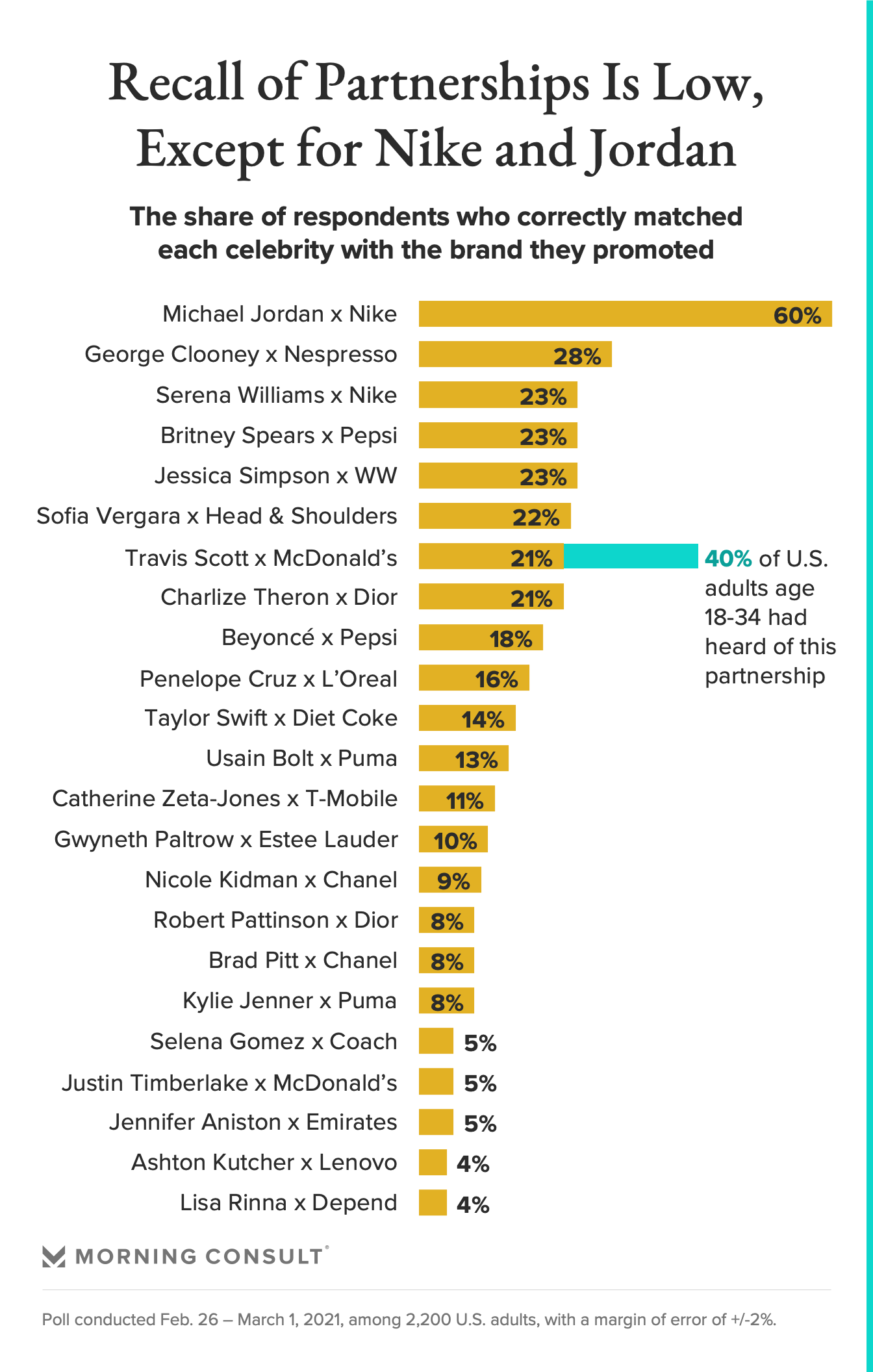 Nike and Michael Jordan are the exception to that average: Their lifetime deal is reported to be worth more than $1 billion, and 60 percent of consumers correctly matched Jordan with Nike.
The next most identified partnership was George Clooney and Nestlé SA's Nespresso: 28 percent of respondents knew the actor has served as a longtime brand ambassador for the coffee brand. Roughly one-quarter of consumers correctly recognized Serena Williams and Nike, Britney Spears and PepsiCo Inc., and Jessica Simpson and Weight Watchers (now WW International Inc.) for their partnerships.
Historically, when it comes to partnerships, brands have been more focused on short-term goals, such as driving sales, marketing experts said. Now, they're starting to care more about their long-term impact.
"Marketers would look at their celebrity investment to see whether it moved product, but in the last two or three years, we have seen this resurgence of interest in brand perception and brand favorability," said Alice Sylvester, another partner at Sequent Partners and a former chair of the board of the Advertising Research Foundation.
Advertising has a "halo effect" that can last for several years, Sylvester said, so it's difficult to measure the effectiveness of these partnerships over time. Their success also depends on variables such as how much money was spent, the duration of the partnership and what competitors were doing at the time, so it's not easy for marketers to control or predict whether their celebrity investments will pay off.
Still, marketers agree that the strategy is at least worth considering for brands across industries.
"There's too much evidence that it can work brilliantly if done correctly," Stibel said. "As long as people have a pulse, it will rise when they see somebody they know."